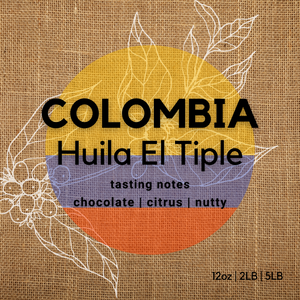 WHAT WE TASTE...
Chocolate | Citrus | Nutty
ABOUT THIS COFFEE

Colombia El Tiple coffee is a versatile Colombian coffee with notes of chocolate, citrus, and nuts. It is medium-bodied and well-balanced, and it is grown in the Huila department of Colombia, the largest coffee-producing region in the country. The coffee is sourced from small, family-owned farms, and it is roasted medium to dark. It is best brewed using a pour-over method.
The chocolate and citrus notes make this coffee a great choice for those who enjoy a more flavorful cup of coffee. The medium-body and well-balanced flavor profile make it easy to drink and pair with other flavors. The coffee is also sourced from small, family-owned farms, which means you can feel good about supporting sustainable coffee production.
If you are looking for a versatile and flavorful Colombian coffee, then Colombia El Tiple is a great option. It is sure to please coffee lovers of all levels of experience.


| | |
| --- | --- |
|  REGION | HUILA |
| ALTITUDE | 1,670 - 1,950 MASL |
| PRODUCERS | Various Small Holders |
| VARIETIES | Castillo-Colombia, Caturra |
| PROCESSING | WASHED |
| WEIGHT | 12oz, 2LB, and 5LB |