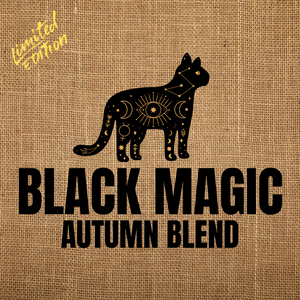 The evenings are getting cooler and the leaves are getting crispy so that can only mean one thing... FALL IS HERE! I don't know about you all, but this is our favorite transitional season and we are pumped to present our new limited edition fall blend, BLACK MAGIC!
BLACK MAGIC is a delicious blend of our Guatemala La Morena and Costa Rica Cordillera De Fuego in just the right proportions to highlight all of the fall vibes that we love. It's got a deliciously smooth milk chocolate base that's complimented by a candied cherry sweetness with a mulled cider finish. 
If you're looking for a delicious coffee to enjoy as you watch the leaves fall, this is a must. Delicious, sweet, and crisp. 
We'll be slangin' BLACK MAGIC through DECEMBER 21st, so be sure to get your fix while you can!