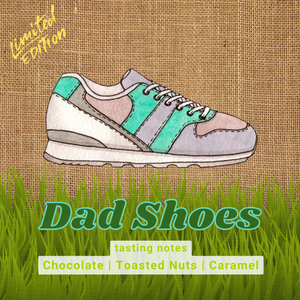 Father's Day is just around the corner and that means that a lot of you are scrambling to find a practical and useful gift that perfectly embodies your love, appreciation, and tolerance for the dad in your life (whether it be appointed, selected, or biological). Besides, it's uncouth to drink beer for breakfast, right? That, and power tools are expensive AF and can be dangerous when combined with the aforementioned beers. So, why not get them something they'll actually use! COFFEE! 
This is a BOLD blend for BOLD dads. A delicious blend of coffees from Central and South America finished with a touch of darkness for that big bold bad dad flavor!
We'll be slangin' Dad Shoes through July 4th, so be sure to get your fix while you can!
PREFERRED BREWING METHODS

Drip Brewer
Cold Brew
French Press
Pour Over
Espresso